Hi,
Our service changed servers and as you can see we have lost
control over editing this website. The site as a whole will remain up
until we can rebuild a new site that will function under the new server.
All new infomration that would normally go here ("WHAT'S NEW") can be
be seen by going HERE. Thank you for your patients during this period.

W

ant to chat about Soapy Smith? Old west gambling? Confidence scams and swindles? Join the School For Scoundrels Forum, and be sure to tell them you want to join "Soapy's Gang"




School For Scoundrels Forum
(Use your browser's
"back space" to return
to this website)
*

It is advisable to bookmark this page*
as well as save information as we are
periodically required to delete information
due to space restrictions.

________________________________________________
Please

post some virtual flowers
on Soapy's grave at
FIND A GRAVE
OFFICIAL COUNTDOWN
The 110th Anniversary
Soapy Smith Wake
(The day Soapy Smith was killed)
July 8, 2008

What's the Soapy Smith Wake?
Click HERE
Visit our Soapy Smith collectibles
STORE
April 16, 2008

The talents of "Grub"


The many talents of John "Grub" Culligan, our Historical Weapons Analyst never ceases to amaze us. Above is a prime example of the fun he has with his computer painting program. This piece has found a permanent home on this site's Art of a Gunfight page. John expresses himself with humor on serious topics of the old west through his art which is posted several times a week. You can see his work and commentaries on his discussion board. Thank you John!

																		


									March 27, 2008
									


									
If you take a look at the home page you will note the above banner has been added under the photograph of Soapy. The time has come to release the truth.

It seems most every "outlaw" in the old west who died violently has a controversial death attached to their story. Did they really die? Who really killed them? Well, Soapy Smith is no exception.

Jeff's publisher has asked him to begin talking publicly about the controversial shooting of Soapy Smith. Not in detail mind you, but as a teaser for the up-coming book. Most historians who write about Soapy Smith comment about the "second shooter" and some agree that Frank Reid was not the man who killed Soapy Smith even though the Skagway newspapers state otherwise. So who does Jeff think killed Soapy?

The man's name was Jesse Murphy, one of the four guards on the wharf (Reid, Tanner, Murphy, Landers) to block Soapy's entrance into the vigilante meeting on the night Soapy was killed (July 8, 1898).

Witnesses, including J. Tanner, one of the guards who became the new US Deputy Marshal. wrote about what they saw and then quickly became silent about it. Fortunately for us, Tanner had already informed the commander of the NWMP, Sam Steele, in writing just hours after witnessing him do it, that Murphy was the one who had shot Soapy and not Reid.
From witness accounts Soapy Smith had a Winchester (model 1892, .44-40) rifle and after briefly exchanging gunfire with Frank Reid (both being wounded) Reid fell to the ground (probably unconscious). Murphy then wrestled the rifle away from Soapy and turned it on him, executing Soapy with his own rifle with a shot to the chest.
Credit for the death of Soapy was given to Frank Reid for political reasons. In Skagway, Alaska, where this all occurred, federal troops had been threatening martial law, it was decided to publish that Soapy and Reid had killed each other rather than have martial law take control from the victorious vigilantes who now ruled supreme.
Accounts of her husband's real death were secretly disclosed to her by friends of Soapy's when she and my grandfather went to Skagway to collect the estate in August 1898 (less than a month after the shoot-out).
Many other details as well as documentation will appear in Jeff's biography of Soapy Smith, which is in the final editing process.

																		

March 13, 2008
									


									
Opening Scene to

Honky Tonk
(starring Clark Gable, as Soapy)



Big thanks go out to Whit Haydn and DaveV

																		


									March 10, 2008
									


									
Projects and Donations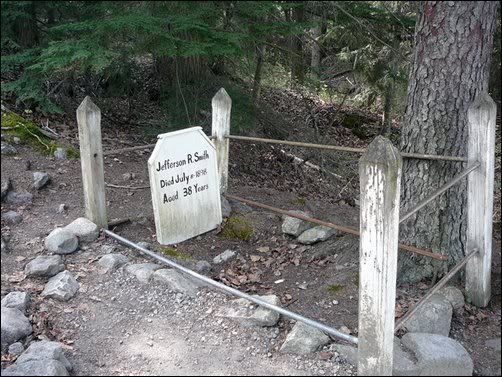 Fence around Soapy's grave needs fixing!


In the March issue of the newsletter for

Friends of Bad Man Soapy Smith

Jeff Smith brought up our new

Make a Donation

button near the top of this page and located around the website. We were in hopes that enough contributions would be made to keep this website going as well as gear up for some needed projects such as fixing the fence around Soapy's grave in Skagway.
Since seeing the above photograph we agree with Jeff that the fence around the grave needs a face-lift.
In 1996 Jeff contacted Jim Richards, owner of the

Days of 98 Show

(aka,

Soapy Smith Show

) in the effort to replace Soapy's grave marker. That project was completed in 1997. Jeff contacted Jim once again recently in hopes he might lead us to someone in Skagway who might take on the task of the fence work. Jeff said he was hoping that perhaps some big chain might all that was needed, replacing the not so period looking pipes. Jim quickly responded.

Jim writes,

Good project, one of the problems with the grave site is that the tree growing out of jeff's grave is causing the pipe to be out of line, so pipe is out. The chain idea sounds good, I would be glad to coordinate the effort in Skaguay. The city should be contacted to let them know what is planned. Four 4x4 posts could be replaced, and a galvanised chain painted some color or other I think would be appropo. So I'm behind ya grandson.
Aloha
Donations coming in have been a pleasant surprise. Four total, three with funds and one promissory note to place flowers on the grave on July 8th. A huge "thank you" to those who donated. This meets two of the four noted projects which are,

Annual payment and upkeep costs for the website.

upgrading the fence around Soapy's grave.

Annual placement of flowers on the grave every July 8.

Repainting of the "Soapy Smith's Skull" overlooking Skagway Bay.

DNA blood testing on blood found on ascot Soapy wore (Skagway City Museum).

DNA testing on hair sample in Alaska State Museum, Juneau.

We

welcome

suggestions for other projects!
The fun part is paying for these projects. Please, we need funds for the current project of replacing the fence. Your name (or "Anonymous") will be listed in the next newsletter. At this time we do not have any guess at what the cost of replacing the fence might be. Jeff says he will keep us posted.
"Save Soapy" (a level on the game Gun)
A new addition to the
Arts and Media
page is the video game
GUN
. Above is a YouTube video of someone playing the level entitled "
Save Soapy
."
Gun
is a western-themed video developed by Neversoft and published by Activision for the Xbox 360, Xbox, GameCube, PC, PSP and PSP2. It was released in North America on November 8, 2005 and in mid-to late November in Europe.
Soapy Jennings is one of the characters in the game named after Soapy Smith. It is unknown why they changed his name but one rumor states it was in honor of one of the creators friends
.
Soapy, played by Dave Wittenberg is a safe-cracking card cheat
and the main characters (Colton) closest ally. Soapy is a little too smart and cocky for his own good. Though he's a smooth talker, he tends to get himself into trouble, where as Cole is constantly bailing him out.

																		


									March 6, 2008
									


									
Remembering

Gregory Eugene Smith




Jeff Smith's brother Greg would be 53 today. He passed away in 1987. He is missed.




More from Kathy Hughes
A relation to the infamous "Doc" Holliday and Jesse James


It just keeps getting more interesting!

Kathy writes,


Hi Jeff
I was shooting for the end of 2008, but I keep finding more to add, so looking at 2009. I am almost done with all the names and a lot of stories are done. The big trick here is putting the biography of all the famous people in my family. Doc Holliday, Frank and Jesse James, 15th great cousin and I could go on forever I think. I have been working on this for a few years now. pictures, Documents, etc. I have paper work, a lot of paper work. but when I'm done with this book you won't see another one like it. I here there is other Hewes family books out there. but they won't be like mine. I am really proud of the work and research I have on it.
When you really get into family genealogy you would be surprised who you are related to, I sure was. and believe me I am proud to be part of all of it, I get on the Hewes Forum and find stories that they were told growing up as kids about a family member. So I have a big collection of paper work, so every story will be in my book.
Kathy
Thank you Kathy! Jeff says he will put you in touch with the proper people to discuss family conections to Holliday. We await your book with excitement.


																		


									March 4, 2008
									


									
Welcome Hughes family

Kathy Hughes wrote in again with details of her family's connection. She is related to Soapy's mother Emily Edmundson. Welcome to the dark (fun) side of the family.

OK family members, get out your family trees!

Kathy writes,

Hi Jeff
I have over 5,000 names in my geneology and still adding but I went back and got the information you wanted so here goes.
Frist my grandfather's name is Sanford Dewey Hewes, great grandfather is Milo Shipley Hewes.
now to get to Soapy.
William Hewes Jr 6th great grandpa, to his father William Hewes 7th great grandpa, to his father John Hewish 8th great grandpa, to his wife Joanna Maunings 8th great grandma, to her mother Dorothy Strangeways 9th great grandma, to her father John Strangeways 10th great grandpa, to his father Giles Strangeways 11th great grandpa, to his father Henry Strangeways 12th great grandpa, to his father Giles Strangeways 13th great grandpa, to his father Henry Strangeways 14th great grandpa, to his father Henry Strangeways 15th great grandpa, to his mother Elizabeth Darcy 16th great grandma, to her mother Eleanor Fitzhugh 17th great grandma, to her son from second marriage Thomas Tunstall 17th great uncle, to his son Btian Tunstall 17th great cousin, to his daughter Anne Tunstall 18th great cousin, to her daughter Frances Middleton 19th great cousin, to her daughter Frances Lowther 20th great cousin, to her daughter Grace Cilborn Celborne 21st great cousin, to her son William Edmundson 22nd great cousin, to his son Samuel Edmundson 23rd great cousin, to his son William Edmundson 24th great cousin, to his son Galeb Edmundson 25th great cousin, to his son Galeb Edmundson 26th great cousin, to his son Joseph Edmundson 27th great cousin, to his daughter Emily Edmundson 28th great cousin, to Soapy Smith 29th great cousin.
Well that's it hope I didnt confused you.
Kathy
Kathy, well done!...and again, WELCOME.

																		

March 1, 2008
									


									
The Hughes (Hewes) family


Kathy Hughes is working on a geneology book of her families history. She is certqain she is related to Soapy and was looking on the net for some background information when she came across our website. Noting the

FIND A GRAVE

link Kathy went there and left some flowers and a message. Jeff Smith periodically checks the site for just such postings and wrote Kathy.

Kathy writes,
No we have not met, I am working on my Family Geneology on my fathers side he is a ( Hewes) so Soapy Smith is my 29th Great Cousin, went on the internet to get the back ground on him and came acorss your site. I like it so I sent him Flowers. Wich one of his kids is your parent. Do you have any dates you can share with me for my geneology book. I Would appreciate it, thank you very much for contacting me.
Kathy (Hewes) Hughes
OK, Smith family members, anyone have the name of

HEWES

on their family tree? In the mean time Jeff and Kathy are exchanging information.


																		


									February 21, 2008
									


									
Addendum to the Halvorsen rifle
John "Grub" Culligan, our Historical Weapons Analyst, writes in with some very important information regarding the Halvorsen rifle.

John writes,


Aside from what you know about the real rifle, I have to also consider the fact that Soapy seems to have kept up with advancements in firearms in his personal use. His use of the Colt swing-out cylinder revolver(s) at the end of his life, your possibility that his rifle was a model 1892 makes a lot of sense.
The Model 66 Winchester was a .44 rimfire, a relatively weak .44 caliber compared to the .44-40 caliber. The next Winchester model manufactured was the Model 1873, but the 1873 model was still nearly identical to the Model 66 in size, weight and the action....a fairly heavy arm, even in carbine length. The next model that used the .44-40 ( and other pistol cartridges, was the 1892)
It was MUCH lighter, shorter, and had a new action that was stronger and required a lot less movement to lever in and fire another round. I would speculate Soapy would have favored it over a Model 66 and even a Model 1873.
Thank you John. "

Now what does this mean to us

" you might ask? Well, it means that the ammo (rim-fire), as outdated as it was, would have most probably been very difficult to come by in Skagway. Considering the rifle was heavier and did not work as well as a more modern weapon that was commonly found in Skagway...why on earth would Soapy want to bother with it? Jeff has said in the past that Soapy most likely had his pick of the litter when it came to guns in Skagway. It just does not add up.

"Soapy rifle" sells for $7,000
(Can you say,
duped
?)
On October 14, 2006 Douglas Halvorsen approached Jeff Smith wishing to sell this rifle to him. Several email and phone conversations between October 14 and November 5, 2006, discussed at length the possibilities of ownership by Soapy Smith. Halvorsen insisted to Jeff that his rifle was the one that Soapy used to kill Frank Reid and would not accept Jeff's explaination that the real rifle had been given to Soapy's son in August of 1898 by the acting Deputy Marshal Tanner and remains in family possession.

Halvorsen stated that he had inherited the rifle along with documents
dated August 20, 1901 that state that his rifle was given or sold to
another man. However the paperwork does not specifically identify the
rifle by model or other means of knowing that the rifle in question was
actually the one given away in 1901. It is important to note that this
is not the

first or only time a gun was given away in Skagway by
residents claiming that their gun was once owned by Soapy.
Lot 1349:
A Winchester Model 1866 lever action rifle attributed to outlaw Soapy Smith.
Serial no. 121364 for 1873, .44 caliber. 24 inch octagonal barrel with full magazine. Plain varnished walnut stock and fore-end. Sling swivels. Together with documentation attributing the gun to Jefferson "Soapy" Smith comprising: 1) Letter on pictorial letterhead of Keelar The Money King of Alaska, reading "Dear Upson/A Portland man from Dawson named Slavin will leave here tonight with the Gun that Soapy Smith killed Reid with he promised me to deliver same to you with my compliments/Yours Keelar." With pictorial envelope postmarked Skagway 1901. Condition: Gun: Good to very good. Barrel and tube with mottled brown patina showing some minor pitting. Action with dents and scratches. Wood showing wear and scattered marks, left side of fore-end with large chip to left side and smaller chips to right. Paperwork showing folds and minor tears
.
Footnote: Details of the gunfight have never been made clear but it is known that Smith carried a rifle with which he shot Reid. According to many sources it was a Model 1892 Winchester, whereabouts evidently unknown.
The last remark in the footnote is the culmination of what Jeff Smith suspected. The statement, "According to many sources it was a Model 1892 Winchester, whereabouts evidently unknown." is an outright lie, instigated either by Halvorsen or Bohams/Butterfield Auction house. The conversation of the Soapy Smith rifle and family possession of it are clearly noted in the email dated October 14, 2006 and in others dated later, as well as was discussed thoroughly in several phone conversations.

The rifle sold at Bohams auctions in San Francisco on May 15, 2007 for $7,000 plus Premium and tax
(Can you say, "

duped

?")
.

																		


									February 20, 2008
									


									
Attention Smith family members!
Do you recognize this Smith?
"Unknown Smith, Sheridan, Missouri"
Please notify us here if you have any information on this "unknown Smith." It may all be just a coincidence but this photo was found in Felix Mulgrew's daughter Louise's keepsakes. The above photograph was sent in by Karen Hendricks along with her story about her gg-grandfather, Felix Mulgrew, who has a direct connection to Soapy.
New member of "Friends"
...with questions



Felix B. Mulgrew
1854-1915


Karen Hendricks is the gg-grandaughter of Felix B. Mulgrew. Mulgrew had some running correspondence with Soapy between May-November of 1897 and through Karen we are learning a little more about one of Jeff's many friends.
On February 16, 2008 Karen wrote Jeff,
Hi,
I wrote a few days ago regarding my gg-grandfather Felix B. Mulgrew and his correspondence with Soapy Smith. I would still like to know where this correspondence could be found or microfilmed or photocopies or anything! I am more than willing to pay for them!
I also misquoted my information on his champagne sale. That should have been to Swiftwater (not Wild) Bill Gates!
Thanks
Karen Hendricks
Jeff responds,

82 Haight St.

May 27, 1897


Friend Jeff:

Your letter dated 13th inst., reached S. F., where myself and wife were temporarily out of town, so I did not get it until yesterday. I fear this may not reach you in St. Louis but trust it will be forwarded O. K. We were both glad to hear from you, but sorry you were sick. Possibly too much Tennessee, Virginia Scedlers and other Spokane beverages was the cause of your undoing. Hope you are well again and have regained your cherry laugh.

I hope for our mutual sake you will strike oil soon. I am getting close to cases. I've dealt out $6000 since I met you. If I was able I would lease a building on Third st., just off Market, for a term of years for a saloon. Capt. White had his faro game on the 3rd floor for years. It is a small 3-story building, adjoining the old Nucleus Bldg., now being demolished for the new Examiner office. It will thus adjoin the Examiner building, and across Third St. will be the Call building, while across Market will be the Chronicle building. An all right place, with hot lunch from 2 to 4 a.m., will catch the printers (if the right people have the place), and there are two floors above for club rooms and games. It is a great opportunity and I only wish you and I could grab it.

I can get police indulgence if anybody can; but it is not necessary for me to tell you that, as you know it already.
This is one of the best opportunities I have had for some time and if we can pull it through we would find the money coming pretty easy.
Best regards for you and hopes for your prosperity, I remain

Yours truly,

F. B. Mulgrew
little is known of their correspondences afterwards. Soapy was just starting to set up his empire at Skagway, Alaska and visited Seattle to spend the winter of 1897. One newspaper account reported that Jeff had returned from Skagway with around $15,000. Mulgrew sent his last known letter to Soapy after hearing of his return.
Whether or not Jeff responded to Mulgrew's plea for help is unknown. There are no further known letters between the two men so it can only be hoped that Soapy paid his debt.
The above letters were published with a number of other letters in an article entitled, Correspondence of a Crook, January, 1907 and February, 1908. (100 years ago). It was later republished in Alaska-Yukon Magazine, October 1908. p. 385-386. The spelling of Mulgrew was published in both as H. B. Mulgrew but Karen Hendricks showed Jeff Mulgrew's signature and it was clear that the "F" could easily be mistaken for an "H."
Famed Canadian historian, Pierre Berton only mentioned the letters in his book,
Klondike Fever
, listing Mulgrew as a "political fixer" because of the comment, "I can get police indulgence if anybody can."
Karen had already figured out on her own that the letter might be published in the booklet, Correspondence of a Crook, and ordered it.
Karen adds insight to Mulgrew,
My gg-grandfather was born in San Francisco in 1854. About 1856 the family moved to Healdsburg, but did live for a time in San Francisco after that. In 1876 he and his brother John F. Mulgrew started the "Healdsburg Enterprise." They sold the newspaper a few years later and Felix went on to dabble in real estate, being a newspaper reporter and served a term as a representative for Sonoma county. He and his brother John didn't seem to be able to settle down in one town or job, they were always on the go! We know that Felix was involved in the Klondike gold rush as his name appears on the Klondike rolls and on the 1900 census, his name appears on board ship in Alaska. After 1900 though, it is hard to track him. We know he was involved in the Alaska Transportation Company from the article about his dealings with Swiftwater Bill Gates. In 1906 he was touring the gold mines of Nevada and was involved in the sale of the Esmeralda mine. He died in 1915 at one of his daughter's home.
He had two daughters, Flora and Louise and one son, Martin. Flora is my great-grandmother. The wife referred to in one letter, would be his second wife, Blanche.
I have attached a few files. One is of a letter written to one of Flora's sons. As you can see from the signature, it is very easy to mistake his "F" as an "H." So I whole-heartedly believe the H. B. Mulgrew is really F. B. Mulgrew. There is no one in California with the surname Mulgrew at that time that has a first name that begins with the letter "H."
I look forward to your replies and will look over the Friends of Soapy Smith info. I have been to Skagway a couple of times and have friends who live in Alaska so have always felt a connection to that area.
Karen Hendricks
Welcome to Friends of Bad man Soapy Smith Karen.

Jeff wishes to add that Karen is the very first person to donate $20 to the fund. We are grateful and hope others will follow suit. The donation button (at top) is a brand new feature here. Funds collected will go towards keeping this website operating as well as a host of suggestions that are coming in, including,
the upkeep of Soapy's grave.

the repainting of the huge Soapy Skull on the hillside over looking the Skagway Bay.

Sponsorship of the Soapy Wake held annually at the Magic Castle in Hollywood, California.




																		

February 19, 2008
									


									
Our Historical Weapons Analyst at work


John's skill in computer graphics aids his comparisons
John "Grub" Culligan takes his position seriously. On February 17 Jeff sent him some photographs of the newest supposed pistol said to have once belonged to Soapy. From the photographs Jeff said that the pistol resembled the pistol on Soapy's deathbed. It did not take John very long to analyze the photograph and send back his report.

John writes,


Looks like an early Hopkins & Allen double action with a 3" barrel in .38 caliber, has a beefier look than later model in .32 caliber (which also has a slightly different "hump" on the back-strap and a "folding hammer" that could fold down so as not to snag coming out of a pocke

t.
All the action pins & hammer pin are in the same locations (they will vary as to brands in similar makes like

Iver Johnson, Harrington Richardson, or

copies of any) H&A were only ones selling with the octagon barrel though.


Good work as usual John! Thank you.


John "Grub"

Culligan

Historical Weapons Analyst



We are
extremely fortunate and very proud to announce
our newest addition to our esteemed group of consultants, John "Grub" Culligan, as our official Historical Weapons Analyst. He has been very generous in sharing his old west gun knowledge when Jeff Smith rebuilt the

Soapy Smith's Weapons

page and we found that we were using his services more and more. It was decided to ask John if he would honor us with his membership and he accepted.

John has collected, shot, repaired and studied the guns of the old west since he was a child. He grew
up in the Catskills Mt. area of New York state where many of the folks,
including his family, still hunted to supplement their table food. He shot using the old Winchesters, Marlins, Remingtons and other firearms connected back into western history.
At age 16 he obtained his first NYS Pistol permit.

One of his fonder memories was working two summers at a tourist wild west town basically as a "swamper" just to be in that atmosphere. "

Heck I'd have paid them to let me hang out there

," John said. "

Most of the 'cowboys' were real young fellows who handled the horses, buffalo, ran a little rodeo bit and performed the several gunfights a day, all from the real west.

"
Coming along in the 1940s
the old cowboy movies set
John to itchin' about them more and 1950s TV westerns finished him off. He spent most of the cash he earned on buying cap guns, bb guns, and co2 guns that most accurately copied the real ones. He even "skimmed" his lunch money so he could afford to buy at least one box of .22 Long Rifle cartridges for practice on the weekends or for hunting. The old shows also got him interested pursuing a career in law enforcement.
In 1966 he started a 14 year service in the ranks of his local police department as a patrolman. He was their first firearms instructor (NRA Police Instructor, plus NRA civilian Rifle, Pistol, Shotgun instructor, Advanced Training from FBI and NYPD). He became an NRA Police Combat Competitor ( Master Class by 1974), attended both S&W and Colts Police Armorers Schools in 1974 and became a licensed gunsmith, organized and part of county Emergency Response Unit (early SWAT). He Left the force with the rank of Sgt. in 1978 and jumped into State Law Enforcement beginning of 1979, retiring in April of 1995 at rank of Sgt.. During that period he also worked part-time for a local Police Department in downstate N.Y. as their firearms instructor also for three years during the 1980's.
In 1991 he, along with his wife, built their retirement home in N.Y. on top of a mountain and constructed a 25 yard range complete with several steel cowboy action targets, bird trap, 100 yard rifle range on our place and began to concentrate mostly on collecting, repairing, loading for, and shooting the old guns. John was looking forward to getting into Single Action Shooting Society (SASS) shooting but health problems eliminated that early in 1996. John now spends time online on an old west discussion board he built and maintains.

Welcome aboard!


																		

February 17, 2008
									


									
I said it would happen


Jeff writes in that he received an email from someone with a photograph of a gun purported to once be owned by Soapy.

Jeff writes,


I said it would happen. I had the very conversation with a friend gun collector who has been helping us properly identify the photographs of the pistols and rifles said to be associated with Soapy Smith. I remember saying something to the effect, "Watch, now that we have given some details about the pistol on Soapy's deathbed photo we will get people writing in claiming they have it."
It may not seem fair to jump too hastily at any conclusion but this is not the first time this has happened...and it surely won't be the last. Reading the email that came with the photograph it would appear that the author and photographer had not seen our page devoted to Soapy's guns and then noting that the gun in the photograph seems to have been placed at almost the same angle as the gun in the deathbed photo..hmmm?


Nick's gun



Here is the email,

I was wondering if you could help me end a family myth. We have a pistol that we were always told by our grandfather of this pistol's story if you will that is it was soapy smiths and how it had to be taken apart and scattered to hide its true idenity, and so on and so on, I am sending a picture of this thing to see if you agree of this crap to be able to end a family myth

Nick


Why would a pistol that belonged to Soapy have to be "taken apart and scattered to hide its true identity?" How is that "identity" determined?
Nick's gun after photoshop

BUSY!
Normally the weekends are pretty slow for our site but this weekend is the exception. We have been real busy here. It will take a few days to get it all processed. First off as you can see above we have opened a Soapy Smith store. We also added a "Make a Donation" button to offset the cost of the website, the discussion board and hopefully have some money to become one of the sponsors of the Soapy Smith Wake this year.


Days of '98 Show
with Soapy Smith

Jim Richards, the owner of the

Days of '98

Show in Skagway, Alaska sent us the link to his new website on the show. It is impressive. This is the longest running show in Alaska. This year marks their 82 year.
It all started in 1925 when steamships started bringing tourists to Skagway. The local residents decided to put on a show for them to raise money for their local hockey team. The team needed new uniforms so that they could compete in the White Pass Athletic League against their rival team in Whitehorse, Yukon. The show became an instant tradition and has been running ever since.

Now get this, Jim summers in Alaska running the show...and winters in Hawaii! What a nice life.

Members of

Friends of Bad Man Soapy Smith

received a notice about this year's up coming Wake. Jim sent back a reply.

He wrote,


I would love to be there for the festivities but you know that I'm busy playing the "old man" one more time, maybe this will be the last year who knows?

Give my best to all who attend.

Aloha


																		

February 15, 2008
									


									
The above link takes you to an episode of The Real Hustle on YouTube about three-card Monte. Right at the very start Soapy is mentioned, although they say one of the men Soapy had taken in the game was responsible for shooting him dead. We sold the program a one use agreement for a photograph of Soapy to be used on the show. Also in the agreement was the placement of our link to this website which can be found
here
.
Soapy Smith's Big Store


We now have a

STORE

where collectibles related to Soapy can be purchased! We are just now adding items of interest so please come back often as some of these items are rare and hard-to-come by.

																		


									

February 05, 2008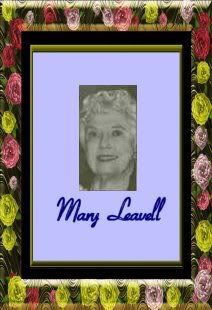 Ellen Rafeedie sends Mary's obituary published in the Times-Herald (Newnan, Georgia). February 3, 2008. Thank you Ellen.


Tennessean with ties to Male Academy to be buried today.

																		

January 29, 2008
									


									
Date of Soapy's Wake confirmed

The 4th annual Soapy Smith Wake at the

Magic Castle

in Hollywood, California will take place on Saturday July 12, 2008. This marks the first event NOT held on July 8, the actual date of Soapy's demise. This year July 8 falls on a Tuesday and so Whit Haydn of the Magic Castle asked Jeff Smith if the Smith family would consider allowing the event at the Castle to take place on Saturday night July 12. It was agreed to in consideration to those who travel great distances to attend the gala. Last year there were attendees coming from as far away as Chicago, who definately plan to come across the nation again this year in order to pay their respects to this infamous bunco man.

Jeff writes,


The Soapy Wake just keeps growing and getting better. Everyone that I know who attends a Wake gets hooked and can't wait for the next years affair. There are no signs that it will slow down. The first Wake held at the Magic Castle was confined to one room. We now take over all three floors of the Castle!


July 8 marks the 110 anniversary of Soapy's death. This year will be the 34th annual Wake in Skagway, Alaska where Soapy was killed, and the 4th annual Wake at the Magic Castle. Due to the Magic Castle date of July 12, the

White Horse Movie Ranch

has started up an event that will take place on July 8 for those who wish to properly honor Soapy on the actual day he died.

Do let us know if you would like to attend one of the Wakes. The Magic Castle is a member and guests only club but with advance notice there is little problem in getting those truly interested inside for the fun.

More news to come...

																		

January 28, 2008
									


									
Mary Leavell Moses Gardner
November 3, 1929 - January 27, 2008
Mary Leavell Moses Gardner died yesterday, January 27, 2008. She will be cremated in Chattanooga. There will be a service for her in Chattanooga on 2-2. On Sunday, 2-3, at 1 p.m. There will be a burial service at Oak Hill Cemetery in Newnan. Following the cemetery service there will be a reception at the Major Long House just south of McKoon's.

I've just talked to Ellis Peniston Gardner and he is thinking about trying to get Sprayberry's to cater the reception. He also would like to be able to visit the Male Academy Museum. I have offered to help in getting these things worked out for him. He has asked if we (Bunny, Lucy and I) would help him contact members of this side of the family. He indicated that Mary Leavell left him without contact information for many family members like Uncle Penny and Jack Powell.

The obituary will be in the Newnan paper this coming Saturday, which is the same day as the service in Chattanooga and the day before the Newnan service! So, we need to reach as many as we can between now and then.
Mary was very involved with gathering genealogical information and helping others in the family do the same. She will be missed.
Ellen Rafeedie writes,
She was by far the nicest cousin I had, she kept up with all of her friends from high school and college — a feat I find remarkable...I will miss her.

																		


									January 27, 2008
									


									
WILD WEST HISTORY ASSOCIATION




link to W.W.H.A.


On the links page you may recall seeing links for WOLA (Western Outlaw Lawman Association) and NOLA (National Outlaw Lawman Association). These two groups have now merged the best of each into one exciting organization. How is this exciting to us here at

Friends of Badman Soapy Smith

? The new organization has fully recognized Soapy Smith as an important part of the history of the old west, something they would not do as separate entities. We look forward to taking part in this association.

Our very own Jeff Smith was asked to write the short bio. for their site. View bio

.

Use the links below or see all available pages in the side-bar to your left
Do Not Use Images without prior written consent from Jeff Smith